Dexter reboot first trailer released, will get back to nature
Oh my God, ok it's happening, everyone stay calm, stay f**king calm! Michael Scott's words have never been more fitting. The first official teaser trailer for the Dexter reboot has been released.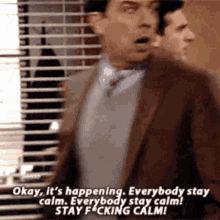 In the short ten second teaser trailer we hear Dexter's voice say "There really is nothing like getting back to nature… my nature" while the camera zooms in on an axe in a tree stump.
This is a nod to the ending of the original series which saw Dexter fake his death after being outed as a serial killer.
The show ended with him being in a cabin in the middle of nowhere, presumably the location in this trailer.
Dexter will return as a ten-part limited series to redux the ending and leave fans more satisfied with the conclusion of the show.
READ MORE: Halo TV Show is coming to Paramount+
Variety has reported that Clancy Brown will serve as the series villain, but is he really a villain considering Dexter is the killer?
Brown will play Kurt Caldwall and is described as "the unofficial mayor of the small town of Iron Lake. He's realized the American dream by going from driving big rigs, just like his father did, to now owning several trucks and the local truck stop. Powerful, generous, loved by everyone – he's a true man of the people. If he's got your back, consider yourself blessed. But should you cross Kurt, or hurt anyone that he cares for, God help you."
There will be some fresh faces in the upcoming series including The Mandalorian's Julia Jones will be playing Angela Bishop, Believe's Johnny Sequoyah will play Audrey, Sylvie's Love's Alano Miller is playing Logan, and The Good Lord Bird's Jack Alcott will play Randall.
READ MORE: HBO's The Last Of Us Series Cast Revealed
No news has been released regarding any previous characters reprising their roles, but anything is possible.
Will his past finally catch up to him or will he be able to freely return to his former life and get back to doing what he does best?